Guitar Mania Freedom V Wireless Guitar Controller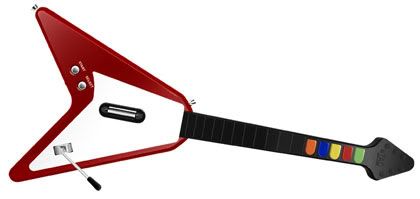 The Ant Commandos (TAC) have announced the launch of the Freedom V Wireless Guitar Controller and the Shredder Guitar Controller for the Playstation 2, finally ending the demand for a wireless guitar controller. There are few things quite so frustrating as getting tangled up in your chord while trying to raise the axe for star power in those crucial solo moments.
The Freedom V features the body of a flying V, functions from 100 feet away, and runs up to 800 hours on 4 AA batteries. Ready for the bad news? The Freedom V costs a whopping $69.99, the same price you paid for buying Guitar Hero AND a wired guitar controller. TAC has also launched the new and improved wired Shredder Guitar Controller, for those who can't afford (or don't want) the Freedom V. The Shredder controller is a basic guitar hero controller–but anyone who has ever used the old one (including me) will tell you that these things are a hunk of junk. Everything from the buttons, the shape of the guitar, to shaking the controller for star power is bad. So let us hope that the new model has a vast improved compared to the older model.
Freedom V [product page]