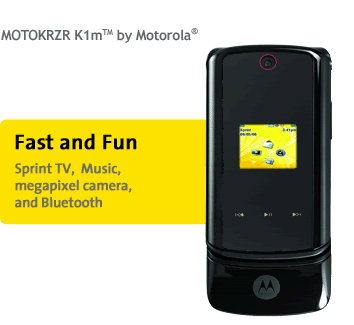 As expected, Sprint today has officially made the Motorola KRZR available to its subscribers. For those two of you not in-the-know, the KRZR is Motorola's sequel to the pervasive and slender RAZR. You probably have one, or at least know someone with one. They're getting obnoxious. So why not make them obnoxiousier?
Like its Verizon brother, the KRZR (which Sprint is calling the MOTOKRZR) sports external touch-sensative mp3 playback buttons, a tiny-is-better form factor, Bluetooth, speakerphone, and a 1.3 Megapixel camera.
If you're still on Sprint despite the get-outta-jail-free card we told you about a few weeks ago, then you can pick this Moto up for $199.99, if you like it enough to keep it for 2 years.
MOTOKRZR [PRDCT PGE]