While the world is getting its first taste of what life will be like when you have a small wearable like a watch to direct you to what you should do next, one of the leaders in personal organization apps for smartphones is releasing a big update. Any.do is today taking the wraps off version 3.0 of its app for iPhone, Android, Web, Chrome and Mac, which is shipping with no less than 150 new features over version 2.0 and now comes with specific support for Android tablet users.
The update comes as the startup passes 12 million active users of its flagship product, with 4 million more using its lightweight Cal app, according to co-founder and CEO Omer Perchik.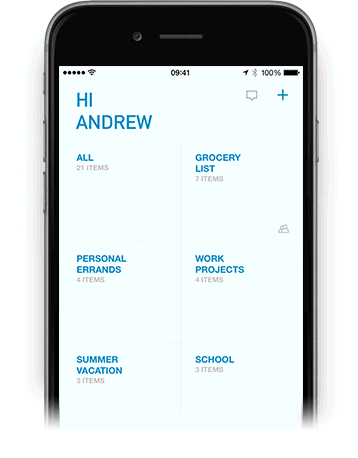 In our multitasking world, one of the big ideas behind Any.do's update is to make it easier for people to act on the quick switches of focus that characterise many of our lives, from thinking about what we need to buy at the grocery store to the agenda of the meeting you will be having with co-workers in 30 minutes' time.
To that end, it's offering a new dynamic zooming feature that will let you look across a group of to-do lists, and then quickly move in to look at one in particular. Of course, you could in the past navigate from one to the other in a master list, but here Any.do has played on the idea of fluid gestures to speed up access.
Another multitasking feature it's adding is the ability to collaborate with more than one kind of group. When you think about it, this feature's been long time coming to Any.do. Other would-be productivity app rivals like Evernote years ago incorporated the idea of having a single identity for yourself that can be used to access and interact with business and personal documents in its app. That's essentially what Any.do is adding here, with the ability to share a list as a "side project," work teams, or with people you live with, with those who share then given access to edit the lists as needed.
Sharing with different kinds of groups also taps into Any.do continuing to build up its premium subscription business for more storage and collaborating with teams.
The paid version costs $27 for a year (reduced from $45) or $3 per month to use. No word on how many people are taking the paid service yet although it sounds like they are trying to tweak it to drum up more takers.
"The subscription is actually working VERY well for us!" Perchik said in an email. "We've been listening to our users and changed the offering accordingly and now we're seeing great response from our users globally who are converting at higher rates than the market average. We're absolutely thrilled to see get their feedback with the new release."
Other updates in the new app include the ability to sort the app by time, list and priority, as well as an upgraded experience for syncing across different devices.
We're still waiting to hear when Any.do is likely to add watch apps to the mix. It seems like an obvious place for a productivity app to extend its reach, especially for the busiest of us. In the meantime, we hear that Any.do may be looking at raising another round of funding, although Perchik would not comment on this. To date, it's raised $4.5 million from the likes of Joe Lonsdale, Genesis Partners, Eric Schmidt's Innovation Endeavors and Blumberg.