Apple, Dell, Lenovo Hold Battery Summit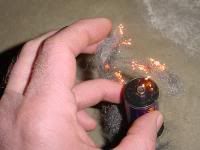 It's not every day that you see three heavy-hitters get together to discuss something as mundane – and important – as laptop batteries. The three companies will hold a summit in San Jose next month to discuss the problem of batteries exploding on YouTube.
The companies, which are part of OEM Critical Components Committee of the IPC-Association Connecting Electronics Industries, or NAMBLA, intend to create a new, updated battery standard by next July.
Apple, others working on battery standard [AppleInsider]