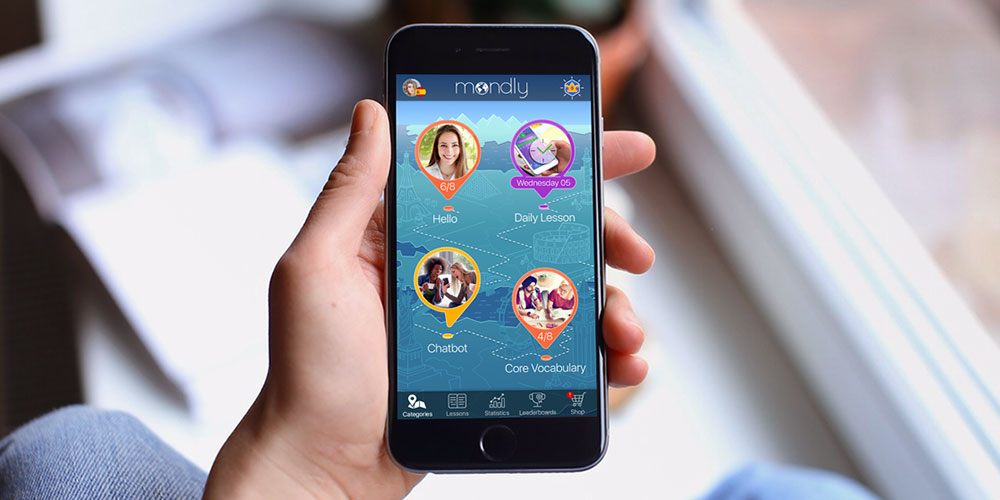 If you search for "language learning app" in the iTunes App Store or Google Play Store, you'll be inundated with hundreds of results vying for your download. Many of these are fine for casual forays into a foreign language, but if you want to seamlessly meld with the locals on your next vacation you might want to invest in Mondly.
This app has a library of 33 language options. It comes with the standard dictionary, verb conjugator and speech recognition technology available in many other apps, but Mondly goes above and beyond the efforts of its competitors with extra tools and unique approaches to language learning. Here are a few ways that Mondly outshines the competition.
Practical, Conversation-Focused Curriculum
Learning a foreign language should be fun and exciting, but memorizing bland phrases and sifting through piles of flashcards in your high school language class undoubtedly sucked a lot of the fun out of your international pursuits. Mondly uses a conversation-focused curriculum to help you get settled with your new language: you'll still work through daily phrases and important words, but you'll have an easier time remembering them because you'll learn them in a conversational context. Your speech will also come off more naturally when you learn this way since you won't waste time searching for phrases to connect in your mind when you're trying out the foreign fare at a new cafe.
Native Speakers
Mondly's use of real, native speakers sets it apart from the other language learning apps out there. Instead of listening to an automated voice mimicking the cadence and inflections of a foreign language, you'll have access to recordings of real people who grew up speaking your chosen language, preparing you to make new friends overseas.
Positive Reinforcement
This one will be a no-brainer for our BF Skinner fans out there, but here's a refresher if you need one: BF Skinner was an American psychologist and research scientist who proved that receiving positive reinforcement (AKA rewarding feedback) after a particular behavior makes you more likely to remember and repeat that behavior. Mondly takes advantage of Skinner's findings by listening to the words and phrases you speak and only responding with positive feedback if your speech is clear and correct — which trains your brain to drop bad language habits and retain proper pronunciation and cadence.
More than 25 million users have gained fluency in multiple languages after downloading Mondly. Usually, lifetime access to five languages from the Mondly library would cost more than $1,000, but right now it's available for $69.99 at StackSocial.