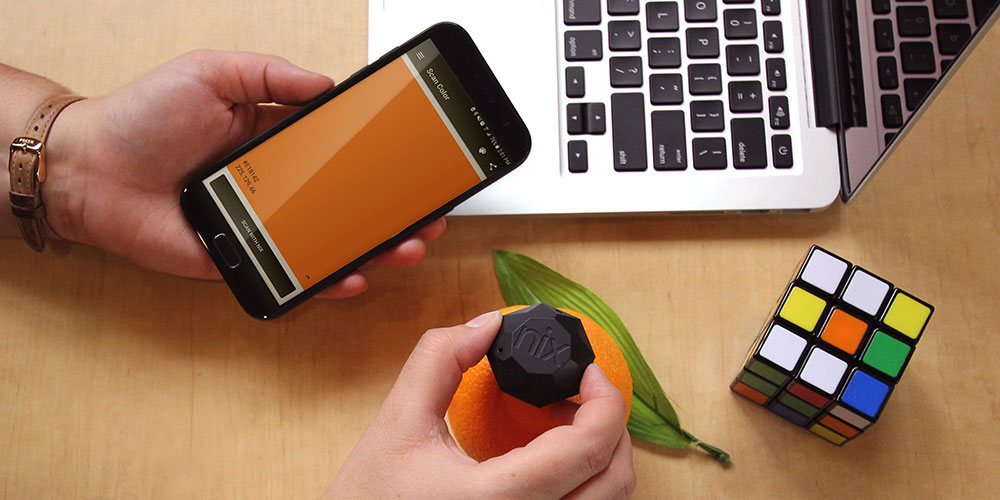 Every game-changing brand comes with a story, and for Nix Mini, it all started with paint decks.
"I originally came up with the idea working with my mom," Canadian founder Matthew Sheridan said in an interview with ChCh. "She's an interior designer. She was lugging around a big bag of paint decks and I thought there was a better way and we could change the paint deck system and make it digital."
Accuracy is another problem hindering this technicolored industry. Though we live in a world full of bright, bountiful color, interpreting the shades we see isn't always black and white. BBC's iWonder platform claims factors such as light, shade, and position can affect how we perceive color. Though most instances aren't as dramatic as the infamous dress, a social media phenomenon that went viral in 2015, your eyes do have the tendency to play tricks on you.
Whether you're renovating a home, editing a photo, or kickstarting your career as a graphic designer, it's important to select colors with as much precision as possible.That's where Nix Mini comes in. Small enough to fit in your pocket, this gadget acts as a portable, personalized color expert.
Nix Mini claims its technology is so advanced, it is more accurate than a smartphone camera or paint deck. Normally, a statement of that magnitude would elicit eye rolls and skepticism from designers and techies alike, but its backed by critical and consumer acclaim. For starters, the company received an R&D grant to fund its initial prototyping work. When the Nix Mini finally launched on Kickstarter in 2013, it made over $69,000— nearly double the company's goal of $35,000.
The completed gadget is now available for purchase in conjunction with its app, compatible with iPhones, Androids, and personal computers. Once you've downloaded it, you simply press and hold the receptor to a colorful surface like a painted wall or piece of fabric. Its specially designed to block out intrusive — and oftentimes misleading— ambient light and provides its own calibrated light source.
As the receptor scans the surface, the software compares the color to a library of over 31,000 options from paint brands like Benjamin Moore, Farrow & Ball, and Sherwin Williams, as well as RGB, HEX, CMYK, and LAB shades. Shortly after, your screen will present the best match.
There's a good chance you're not scanning colors for fun; you're looking to integrate them into your life. Homeowners and interior designers will be happy to learn the software not only provides the exact RGB values but where you can buy the shade, too. Or, if you want to add the colors to your mood board, you can save and write notes about your scanned shades.
Not redecorating your home or pursuing a design career anytime soon? Sheridan argues the Nix MIni is a lot more than a color detector. "In addition to [Nix Mini's] interior and graphic design uses, it's open source nature provides an infinite possibility for modification," he said in the company's Kickstarter video. He adds that with a few tweaks, it can do everything from detecting a banana's peak ripeness to finding your perfect shade of makeup.
The Nix Mini normally costs $99, but for the next few days, the online tech deal curators at StackSocial are selling it for $69, which is significantly cheaper than Amazon's asking price.
—–
TechCrunch is teaming up with StackSocial to bring you deals on the latest gadgets, tech toys, apps, and tutorials. This post does not constitute editorial endorsement, and we earn a portion of all sales. If you have any questions about the products you see here or previous purchases, please contact StackSocial support here.