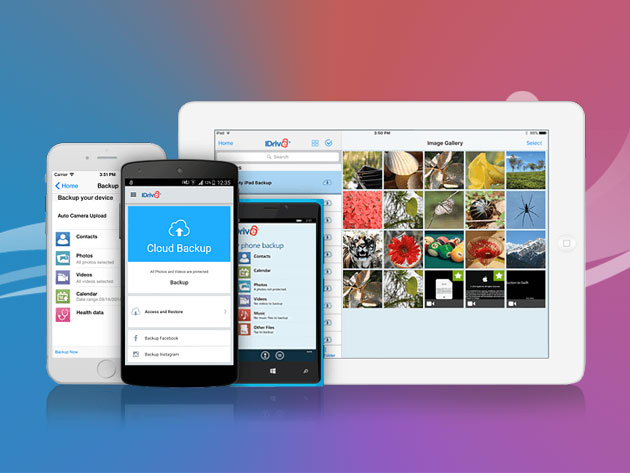 In 2018, paying for online mobile backup is a given due to the amount of data we store on our phones every day. From photos to videos to private text conversations, our mobile data can be both important and extremely personal — and most backup solutions mitigate the risk of losing that data or worse, having it stolen.
Online backup solution iDrive, however, is certainly not a new name in the now booming market. But the company has continued to stay relevant by adding noteworthy new features and offerings to its toolbox. Known for its consumer and more recently, enterprise backup solutions, it's now proposing a rarely-offered unlimited mobile backup plan through tech deal site StackSocial. The plan includes lifetime access to its services on up to five devices for just $19.99. For comparison's sake, iCloud's largest monthly offering of 2TB will run you $9.99 a month — making this deal very affordable. Here's what else you need to know about iDrive Mobile Cloud backup:
Cross-Platform Compatibility
While iCloud is often the fast and dirty choice for iPhone users, don't be so quick to settle. The Apple-only solution won't do you any good should you add a Samsung, Amazon or Microsoft tablet to your tech arsenal. And if you dare to one day switch to an Android phone, you'll be out of luck when it comes to easy restoration. Alternatively, iDrive is cross-platform compatible and allows you to back up all your varying devices to one account, restore an Android with your iPhone's data, and vice versa.
Private Encryption
When choosing a backup solution, security should absolutely play a significant role. iDrive uses top-level 256-bit AES encryption to protect your data from prying eyes. But what makes iDrive unique is the option to set up a private encryption key. This is an access code known only to you (not even your company would have access should you be on a small business plan) and adds an extra layer of security, which is always highly recommended by the experts.
File Sharing
Not only does iDrive allow you to access your storage from any mobile or web-connected device, but it allows users to share synced files with others easily. This is key for collaboration with colleagues while you're on-travel and otherwise.
Unlimited Storage
If you've done your due diligence and read iDrive reviews from the around the web, you'll see one consistent complaint amongst the rave reviews (PC Mag Editor's Choice): no unlimited backup option. This is a particular pain point because iDrive does not automatically remove deleted files from your backup, causing a potential storage clog. This is of course a non-issue with the now available unlimited option.
iDrive backs up everything from photos and videos to contact lists and social media accounts (e.g., photos and videos from Instagram). If you're interested in this limited-time offer, you can view the $19.99 deal on StackSocial's site while it lasts.
—–
TechCrunch is teaming up with StackSocial to bring you deals on the latest gadgets, tech toys, apps, and tutorials. This post does not constitute editorial endorsement, and we earn a portion of all sales. If you have any questions about the products you see here or previous purchases, please contact StackSocial support here.