Now that South by Southwest 2007 has come to a close I finally have some minutes to write about the two most vaunted services of the show: Twitter and Dodgeball.
With both services, users establish a friends list to whom messages are broadcast. Twitter allows you to update your status through IM, SMS or a web-based client. Dodgeball functions exclusively through SMS at this point. They each have a distinct use when it comes to coordinating with many people while away from home. Because they allow you to send one message that is then sent to all of the people on your list, you can easily inform a group of people of your whereabouts or whatever else you wish to say. You can also elect to receive updates from your friends through IM, SMS or through the website.

Twitter was the clear winner of SXSW, with more people talking about it than anything else. That is not, however, to say that it's better, it just had more of a presence. This is partly due to the fact that Twitter had giant LCDs setup all around the convention center that streamed messages from SXSW. It was interesting to watch all of the comments flowing in from attendees. I think though that Twitter has a limited appeal. Sure it's cool at an event like SXSW, but I can't see it maintaining much functionality out of a convention/festival environment.
It's really just a glorified Facebook status. The service allows you to update your status via different conduits, but in the end it does no more than Facebook's service. The only thing that it really trumps Facebook on is the fact that there is no presumed "is."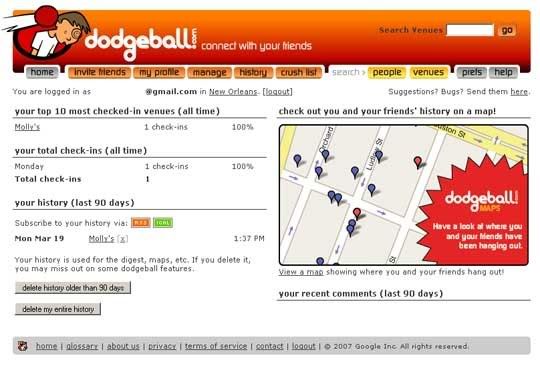 Dodgeball at least brings something completely new and useful to the table. This service functions under the Google accounts blanket and its a bit more streamlined. Your status can only be updated through SMS, but that's OK, because its mainly about location. Sending an "@ location" message to Dodgeball will broadcast your locale to your entire list. If your friend is unsure of where that place is, he or she can query the system "location?" and it will ping the person back with an address.
Another interesting feature that Dodgeball adds is Crushes. If a crush is within a 10 block radius of you at the time you check-in, the system will send you a message letting you know that a crush is nearby. It won't tell you where or who, but if the user has a camera phone, he or she can forward a picture to let you know what you're looking for. It's an interesting dynamic, but I'm not sure how well it'll take off. It can also put you in contact with a friend-of-a-friend (FOAF) in a similar capacity.
To me, the best player in this new arena is currently Dodgeball, but my eyes are on Facebook. It has a far greater userbase than either of these services and could feasibly implement features that could corner the market before it becomes too convoluted.
In the meantime, I'll continue to follow Dodgeball and Twitter to see if anything new develops. They're each intriguing services with definite use to people in cities.