A company called SimplyHeadlines launched today, calling itself a news service "for the extremely busy." It is a customizable news summary delivered to your email with headlines and summary blurbs only.
SimplyHeadlines features news from thousands of online news sources such as The New York Times, iVillage, Men's Health, Bloomberg, and BBC, but it also allows users to order up non-news related information such as weather, stock quotes, comics, etc.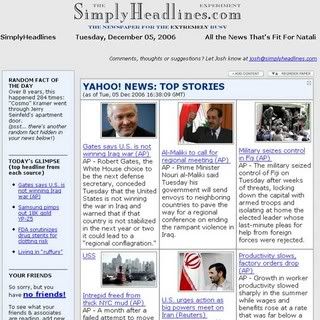 Why do we need this? Do people have a hard time finding their news online? I think this is pretty backwards thinking in this day and age for many, many reasons.
For one, last time I checked, you could get all of this information on any customizable start page. And email doesn't have the stronghold as the most preferred method of communication that it once did. Studies show that the younger generation is far less likely to communicate via email than any other method of communication.
Additionally, I don't think people want to be spoon fed their news anymore. That's why sites such as Digg and Slashdot are so popular. Users want to interact with their news, decide for themselves what is important, and let their opinions about the news be heard.
Also, there is no RSS feeder for your preferred news, and, as far as I can tell, there are no blogs serving up news to SimplyHeadlines. What year is this again!? I'd rather use Spokeo, the site I reviewed last week, than this antiquated email service. Maybe this would have been revolutionary five or ten years ago but in the year 2006 it just kind of puzzles me.