Just had to use a pun this morning. Anyway, Leica is launching four digital cameras this October at Photokina in Cologne and we got a chance to play with them a few weeks ago. We sat on the news until today but we're happy to report that if you liked the film Leica line, you'll like these cameras.
We begin with the M8, which – if you've ever seen Eurotrip or pictures of moody French fashion photographers – you'll recognize immediately. The M8 uses Leica's M System lenses and has a low noise 10.3-megapixel CCD with automatic cleaning system and Leica's famous range finder viewfinder. This is a hefty camera and will cost about $5,000 (!!).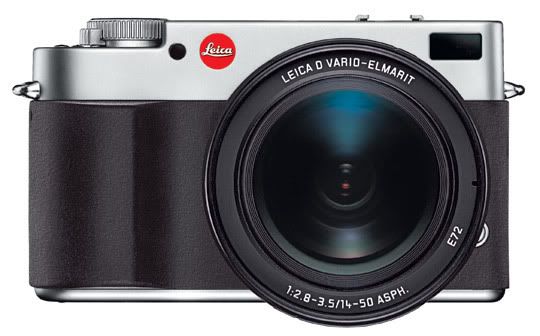 Next we have Digilux 3, a less expensive mirror reflex camera with interchangeable lenses. The Digilux 3 uses the Leica D VARIO-ELMARIT lens and has 7.5-megapixel sensor.
Then you've got the Leica V-LUX1 with a long focal length that also uses the D VARIO-ELMARIT lenses. This one has 12X optical zoom and 10-megapixel sensor. It also stores video and records to SD cards.
Pricing has not been finalized, but expect these to end up in the $1,000 range.
Finally, you have the point and shoot D-LUX 3. This slim camera is designed for those who like Leica but might not want to drop a few grand on a high-end piece. This little camera has a 10-megapixel sensor and comes in silver or black. It takes video and has 4x optical zoom.
In short, it looks like Leica is aiming at all markets here – from the superrich to the merely rich – so that's a plus. We hope to get some of these in so we can see for ourselves what German engineering and brushed brass can do.