MicroOptical myvu Made for iPod edition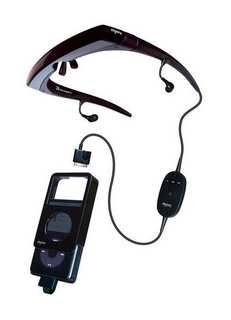 MicroOptical announced today a personal media viewer (aka video glasses) developed for use with the iPod video. The glasses simulate a 27-inch screen viewed from six feet away. Unlike similar devices, users can see slightly above and below the screen so that they can remain somewhat aware of their surroundings. It utilizes an ultra-slim rechargeable lithium battery that can provide six hours of playback, includes noice-reducing earbuds, has controls on the cord and comes with a travel case with room for the iPod. The myvu system will be available late this fall for $399.
Has anyone tried anything like this? It seems to me like it'd sear your eyeballs right out your head. I remember using the Virtual Boy back in the day and it'd give me piercing headaches. I assume this would have roughly the same effect.
MicroOptical announces made for iPod glasses. [Mobility Today]