Kensington Offers iPod Speakers With FM Radio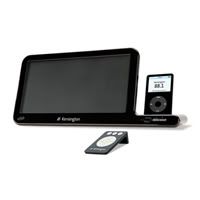 Kensington has released two new iPod speaker sets (becayse we totally needed more), one of which allows you to play FM radio. The two new models are the FX 300 Speaker To Go and the SX 3000R Speaker With Radio for iPod. The FX 300 Speaker To Go is a protective case, which has an integrated speaker allowing you to protect your iPod and listen to music on the go. The case is water-resistant, works with all MP3 players (through a headphone jack, not a dock) and has an external volume dial. The FX 300 sells for $29.99.
The SX 3000R Speaker With Radio only works with iPods and features a flat-panel design and a remote control for the iPod and onboard FM tuner. The dock on the SX 3000R works with all iPods, including the new iPod Nano and iPod video. The SX 3000R sells for a whopping $179.99.
Kensington's New Speakers [Playlist Mag]