Sony LF-B10 and LF-B20 LocationFree TV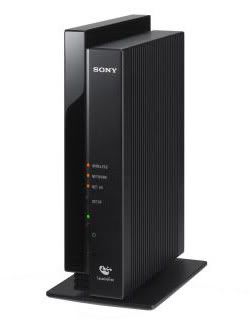 These two Sony LocationFree units let you placeshift your video anywhere you like, much like the Slingbox from Sling Media. The LocationFree lets you control and watch your TV from any connected PC or laptop. The base-stations, the LF-B10 ($200) and the LF-B20 ($250), allow you to control two devices connected with composite or S-Video. Both units encode the video stream using H.264 instead of MPEG-2, which gives you higher video quality at less bandwidth cost.
You can use this with the LocationFree TV Box that lets you view LocationFree on another TV in your own house. This lets you get your channels you have on your main TV in the living room upstairs to your office, for example. Both the LF-B10 and LF-B20 use ethernet, but the LF-B20 has 802.11b/g so you can connect wirelessly. Best of all, you can use your Sony PSP to watch content just by updating to 2.50 firmware or higher. Slingbox has more support for more devices, but Sony's seems to be an up-and-comer with some decent features as well.
Look out, Slingbox: Sony announces new LocationFree TV models [CNET]